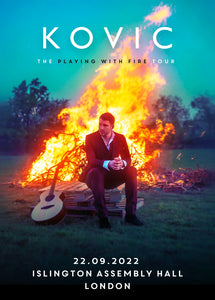 Kovic ~ Live in London ~ 22nd September 2022 ~ Competition e-Ticket Link ~ Islington Assembly Hall ~ (Booking fee required)
Kovic Source
Regular price £0.99 GBP Sale
If you're reading this you have won a pair of guest-list passes to see Kovic live in London on September 22nd at the Islington Assembly Hall. 
In order to register your free guest list pass, the promoter for the event (AEG) will need to process a ticket for you to use on the door, requiring a name, email address and booking fee of 99p per user (not charged by the artist!).
You will get this ticket immediately sent to the email provided, and your name will be added to the door guest-list. Your ticket will also be downloadable by clicking the *Click To Download Tickets* button in your confirmation email. 
Please use this link to register your guest-list pass for yourself and +1 other guest. 
We will look forward to welcoming you on Thursday 22nd of September at Islington Assembly Hall!

*Any fee's are not charged by the artist*